The iconic outfit was sold as part of a larger collection of stage-worn costumes on eBay.
A collection of Britney Spears' most iconic stage outfits went up for auction on eBay and they weren't cheap. The winning bid was $99,995.
Seven costumes, including the infamous snake charmer outfit from her legendary performance of "Slave 4 U" at the 2001 MTV Music Video Awards, was sold as a part of a job lot on the online auction website.
The outfit worn in the music videos for "Slave 4 U" and the Madonna duet "Me Against The Music" were also included in the lot, which comes complete with certificates of authenticity.
Eye-catching Spears memorabilia of this kind does not come cheap though, with seller bikinico careful to include a hefty reserve price in an attempt to ward off any last-minute bargain hunters – you know who you are.
That price still represents good value though, given some of the prices attached to similar items in the past. The famous white dress Marilyn Monroe wore when she sang happy birthday to John F. Kennedy, for example, fetched $4.8 million at a recent auction.
While these Spears dresses would be unlikely to reach a similar total, their value is only likely to increase in the years that follow.
They come from a collection of Spears dresses which the owner began amassing way back in 2003. Now, nearly 15 years on, they are ready to cash-in. The only question remains: will they find a buyer?
There were 188 bidders for the authentic original Britney Spears items.
The seller, a Canadian superfan, collected all of the items. He stated he'd been collecting them since 2003.  The full lot includes Britney Spears outfits listed below ….
Overprotected (Darkchild Remix)- Music Video Levi's Chaps paired with
Lonely Live from Las Vegas -Dream Within A Dream tour top
2008- VMA custom Versace Atillier Dress
Slave 4 U-  2001 VMA Performance (with the Snake)
Slave 4 U- Music Video
Me Against the Music- Music Video (feat. Madonna)
Oops/Crazy -Dream Within a Dream Tour
 Superbowl Performance (with Aerosmith)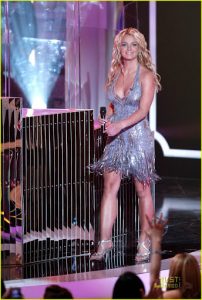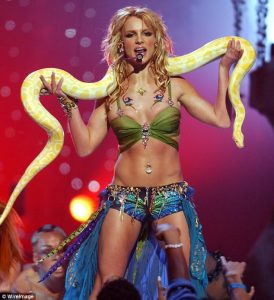 The winner of the auction was not revealed. But somewhere out there is one huge Britney Spears fan with quite a few of her most iconic outfits.