Stunning Swede, Ronja Manfredsson is the winner of Scandinavia's Top Model Cycle 4. This particular series was especially groundbreaking because it only cast 'plus' models. If you were below a UK 14, you weren't eligible. Awesome.
Ronja competed with 17 other girls in 'Top Model Curves' and claimed the top spot in the end. Stunners from countries like Sweden, Denmark, and Norway were included in the competition which took them to Lisbon, Portugal for the finale.
Judges and mentors who steered the girls to success were heavyweights in the fashion industry. Folks like; MiLK Management owner Anna Shillinglaw and models Robyn Lawley and Hayley Hasselhoff.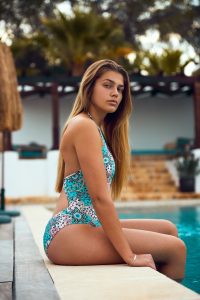 Now, the world is this gorgeous 19-year-old's oyster. She recently snagged the cover of Slink Magazine and received a prime contract with MiLK Management in London. We're so excited for her future.
Devlin Cross caught up with the 5'11 wonder to ask her a couple of questions about life as an up and coming supermodel.
---
Congrats on your win Ronja!
Ronja: Thank you so much!!
Where are you at the moment?
Ronja: I'm home at my mum's place.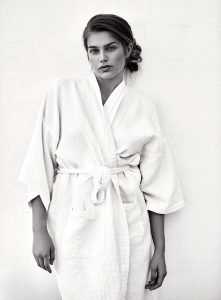 The last song you listened to was?
Ronja: It was "STFU" by mansionz.
Are you based in London?
Ronja: No, I'm not. I'm based in Sweden on a little island called Gräsö.
During Top Model Curves, did you ever have a moment when you thought, I could win this thing?
Ronja: No, I hadn't. I packed my suitcase with clothing that would last for two weeks. I was there for seven weeks, which I absolutely had not expected.
Judging from your Instagram you like to ski, is staying active very important to you?
Ronja: Yes exactly. I think is important to stay active and healthy and to feel that I´m doing well.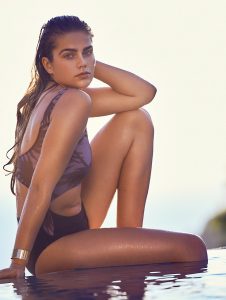 How do you feel about the 'plus model' label?
Ronja: I personally think that you should not put labels on different body sizes. However you look and whoever you are – we are all equal. Many people see 'plus-size' and judge it as something negative, and I don't like that.
What's your dream editorial shoot like? Photographer, designer, location, etc.
Ronja: Hmm, hard question. Gucci, Vogue, or Alexander Wang. Traveling to Alaska or Africa for a photo shoot would be amazing.
What do you think of English blokes?
Ronja: They seem to be friendly, fun, and maybe a little crazy, haha.
Ashley Graham says she feels sexiest in a bikini, what's your favorite thing to wear?
Ronja: I like to dress me in a bodysuit or a see-through shirt with a trendy bra underneath.
What would you be doing if you didn't win the show?
Ronja: I think I would have studied at University or worked in a dress shop somewhere. I would save the money so that I would be able to travel abroad and see the world.
Best and worst experience in the fashion world so far?
Ronja: I'm new to this industry, so I would not be able to say that I've been through the worst and best yet, whatever it might be. But so far, the best was that I have started my career with MiLK Model Management
What's your mantra?
Ronja: "We all bleed the same color."
How do you feel about photoshoots requiring nudity?
Ronja: Depends on what is defined as nudity. I would never do anything where I don't feel comfortable.
Are you willing to try anything else in the entertainment world?
Ronja: I don't know, depends on what it is. I would love to walk in a fashion show. Maybe in New York or Milano!
Thanks for chatting with us, Ronja.