One of the problems with being a growing platform is that your consumer base has an ever-growing need for new content.  So much so that they've started buying up foreign-produced movies and just dubbing them over in English. Sometimes these English voiceovers can be a little out of sync, but for the most part, Netflix did a pretty good job on this Swedish series called The Rain.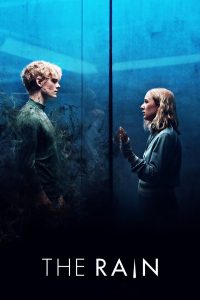 The Rain is a three-season series about a brother and sister trying to survive in a post-apocalyptic world. Season one first premiered on Netflix in 2018.
The world as we know it has come to an end, due to a rain-carried virus that wiped out nearly everybody in Scandinavia. Six years after that event, two Danish siblings emerge from the safety of the bunker where they have been staying. After discovering all remnants of civilization gone, they join a group of fellow young survivors, and together they head out on a danger-filled quest throughout the abandoned land in search of signs of life. The survivors think they have been set free from societal rules of the past, but they quickly find that even in a post-apocalyptic world there is love, jealousy and other coming-of-age dilemmas that young people have always faced.
The show follows a small group of survivors who live in Denmark, several years after a virus that wipes out millions. The virus was transmitted through the rain.
The show begins with siblings Simone and Rasmus, who had spent the last six years hiding out in a bunker. Their mother died protecting them and their father, a scientist went off to figure out what was going on. Right away, you get the idea that the dad or his company is somehow responsible for what is going on.
After leaving the safety of their bunker, which was running short of supplies, they run into a small group of survivors, which they join to try and find food, and shelter.
Despite being three full seasons long, there were actually only a total of 20 episodes — season 1 has 8 episodes, season 2 and 3 each has 6. In the end, it's really just one long seamless story from start to finish. You don't even realize you are going from season to season. There are no unusual breaks. It's all just one long story, broken down into 20, one-hour episodes.
It starts off slow but does eventually develop into a thrilling dystopian that was well worth the watch.