Meet the Meatzza Burger and Pizza in one glorious union Meathead! It's a hamburger with a pizza bun!
We've seen our share of crazy fast food combinations down the years, but the newest offering, called the Meatzza, has to be up there with the best ever.
Meathead! Restaurant in California has been gaining popularity thanks to their avant-garde approach to fast food. Customers can order from their range of burger offerings and ask to have it done Meatzza style.
This means that instead of regular buns the burger of choice gets a pepperoni and gooey cheese-topped pizza addition. Sounds like messy, fast food heaven on earth.
The cheese used is Muenster, and the decadent meal usually comes with giant onion rings or tater tots. Their Notorious P.I.G tater tots are covered with jalapeño cheese, bacon, salsa, and loads of other delicious stuff too.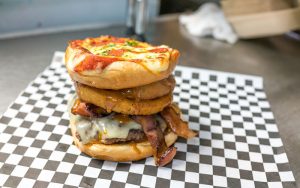 Downtown LA has no shortage of great restaurants to try, but only one of them is combining two great loves on one plate: pizza and burgers.
They now go by the name Meatzilla, but they are still in the same download Los Angeles location. You can follow Meatzilla on Instagram @Meatzilla_LA.