One of the biggest TV stars of the 70s, Lynda Carter will be making a small-screen comeback when she appears in the second season of Supergirl. The former Wonder Woman star stepped into the Oval Office, playing no less than the President of the United States in the superhero show.
It's a fictional election victory that puts a retro sex symbol back in the spotlight alongside Girl of Steel Melissa Benoist and new Superman Tyler Hoechlin.
But what happened to Carter in the years between her big DC Comics roles? It turns out plenty.
Named 'The Most Beautiful Woman in the World' in 1978, she appeared in several TV movies and shows throughout the 80s, including a turn as herself in The Muppet Show.
Around the same time, she released her first album, a 10-track pop number called Portrait featuring a cover of Billy Joel's She's Always A Woman. Carter's music career took a backseat, though, as she opted to carry on acting.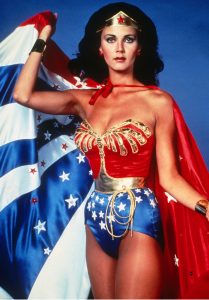 One intriguing fact film fans might not know is that Carter appears in Francis Ford Coppola's war movie masterpiece Apocalypse Now. Originally cast as a Playboy Playmate Bunny, she lost the part after storms delayed the production and it ended up clashing with her Wonder Woman filming.
The role ended up getting reshot with Colleen Camp, but Carter is still visible as a centerfold in Playboy's magazine props made especially for the film.
In the early 90s, she beat Gal Gadot to the punch, starring in a movie with a very young (and pre-Batman) Ben Affleck in Daddy. Other co-stars in that film included the eclectic trio of Patrick Duffy, future-indie pop starlet Jenny Lewis and Kate Mulgrew of Star Trek and Orange Is The New Black fame.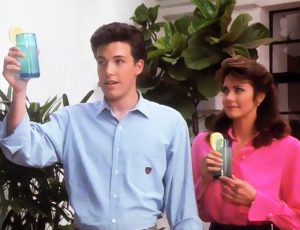 Fleeting roles in comedies Super Troopers and The Dukes of Hazzard were followed by a return to super-heroics in Smallville, in which she played Kryptonite-powered character, Moira Sullivan.
After more than 30 years away from music, she brought out a second album in 2009 called At Last and followed it up with 2011's Crazy Little Things.
This came at a time when she was branching out into video games. The idea of Carter lending her vocals to orcs might seem off-kilter, but it happened… in four different Elder Scrolls titles running from 2002 to 2014.
Related to that, she voiced a character in 2015's smash hit game Fallout 4 and recorded an original soundtrack EP of songs from the game. Proof that she still has her finger firmly pressed on the pop culture pulse.
Carter's a big fan of her Wonder Woman replacement Gal Gadot, too. Batman v Superman might have taken a critical pounding, but Carter has given the Israeli star the thumbs up.
"I think it's great. I'm very hopeful for her to reemerge – I've tried to keep her alive a long time," Carter said of the new Wonder Woman incarnation.
We'd whole-heartedly agree with the new Commander in Chief.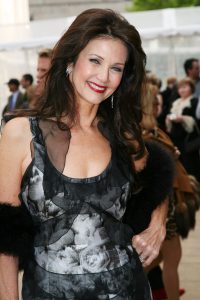 Now 69 years of age Lynda Carter still takes the occasional guest appearance on TV.
On April 3, 2018, the Hollywood Chamber of Commerce (HCC) proudly honored Carter with the 2,632nd star on the Hollywood Walk of Fame. The star is at 6562 Hollywood Boulevard in the television section.