Lock and load with ScarJo!
It might be mired in controversy thanks to accusations of whitewashing, but Scarlett Johansson's Ghost in the Shell is doing its best to defy critics thanks to an action-packed first trailer.
The Hollywood adaption of Masamune Shirow's 1989 manga comic series casts Johansson as the leader of Public Security Section 9, a task force who must bring down a powerful hacker.
Both the original comic and its anime adaptation portrayed the lead character as Japanese, leading to controversy when Johansson's casting was announced.
The first full trailer arrives after several teaser pieces aiming to build up hype, and despite its slick visuals and epic sci-fi world fans are still seemingly split on it.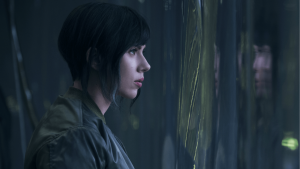 Ghost in the Shell was one of the most controversial films of 2017.  The adaption of Masamune Shirow's 1989 manga series has been accused of whitewashing.
The actress, who plays a human-cyborg hybrid in the movie, wears a suit of invisible armor during action scenes in the behind the scenes clip. Johansson also talks about her experiences making the movie, and director Rupert Sanders discusses creating the adaptation in the teaser. Watch it below:
Johansson's casting provoked a lot of reaction online when first announced, as her character in the movie was previously portrayed as Japanese.
She leads a task force called Public Security Section 9 against a powerful hacker in the film.
Marvel actress

Ming-Na Wen previously hit out at Johansson's casting

, saying she was "against this Whitewashing of Asian role".
Fans of 1995's Ghost In The Shell have been waiting for years for a live-action take on the anime classic, but the first look at the Scarlett Johansson film has arrived to accusations of whitewashing.
In Ghost In The Shell Johansson will play a human-cyborg hybrid who leads a task force called Public Security Section 9 against a powerful hacker.
In the source material, the character was a major called Motoko Kusanagi. Although all the press materials for the photo release refer to her simply as "the major" that hasn't stopped social media from weighing in.
Twitter has erupted with complaints about Johansson, a caucasian actress, playing a character previously portrayed as Japanese in both the animated movie and the manga comic it's based on.
Perhaps most surprisingly of all, leading the charge is an actress who, like Johansson, is a key player in the ever-expanding Marvel Cinematic Universe.
Macau American actress Ming-Na Wen is a series regular on Agents of SHIELD, and she was quick to criticize Hollywood for making a Ghost In The Shell movie and ignoring its heritage.
Wen, who previously voiced the lead character in Disney's Mulan, is the highest-profile voice in a strong backlash.
Her comments may end up driving a rift in the happy land of Marvel far worse than the showdown due to unfold in Captain America: Civil War.
Any screen meeting between Johansson's Black Widow and Wen's Melinda May would surely bring some extra charge. At the very least there'll be an awkward encounter at the Marvel Christmas Party.
Elsewhere, YouTuber Jimmy Wong weighed in, saying: "Ghost in the Shell was one of the most important movies to my brother and me growing up. It really does hurt to see it get this treatment".
Fans have also been recommending Asian actresses who are more suitable for the role of Kusanagi.
Pacific Rim's Rinko Kikuchi, Kill Bill's Chiaki Kuriyama, and Suicide Squad star Karen Fukuhara have been brought up as credible alternatives.