John Goodman has been making movies for more than 30 years, but he finds the whole process mind-numbingly dull – unless it involves his Kong: Skull Island co-star Brie Larson. The 10 Cloverfield Lane star revealed that he'd rather be at home instead of spending tedious time on location or on a film set.
"Let's face it making movies is really boring," he says. "All the stuff that's interesting is only a small part of your day. You've got to wait for them to set the cameras and the lights up, there's a lot of downtime.

"I do like visiting places – when we were in Vietnam and Australia [for Kong: Skull Island] I got out because Miss Brie Larson would organize tours for everyone. She took it upon herself to be the den mother for everybody else. She made it fun."
Head on over to Larson's Twitter feed and you'll find various photos of the King Kong cast cavorting when the cameras aren't rolling. Goodman isn't present in any of these particular photos – maybe he's the man taking the snaps?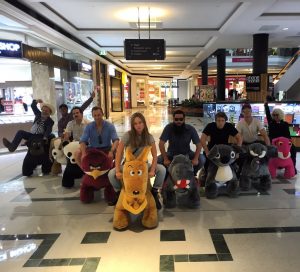 In 10 Cloverfield Lane, Goodman plays a crazed survivalist who kidnaps Mary Elizabeth Winstead's Michelle and keeps her hostage in a bunker.
The actor admitted that he had an intense dislike for his character Howard. "I'd never played a guy like this before, it's a little more difficult for me to play people that I dislike," he says.
"I didn't like this guy. I had to try and see things from his point of view, which to put it politely is skewed. He's not all there."
Goodman, an experienced theatre actor, said making the film reminded him of working on the stage.
"It had a stylistic approach to it that was certainly not exactly grounded in realism but there's a truth to it and I think it's because of the speeches," he tells Loaded. "It was so dramatic a presentation, so different from the norm. It had a theatrical flair to it."
The 63-year-old said the most excruciating scene he had to film was when Howard gets rid of his beard for Michelle.
"I came out shaved just for her, nobody wants to see that," he explains. "Nobody wants to see my character come as a blind date. That was funny for me because he was trying to put his best foot forward after all this time and abuse.

"We don't know if he's in love with her if he's a stalker if he's genuinely trying to save her if he's keeping her for a secret breeding program after the unpleasantness is over.

"All I know is that I looked at him as a desperately lonely man but keeps people at arm's length because he considers them inferior and not worthy of his conversation."
10 Cloverfield Lane is a science fiction psychological thriller. The film grossed over $110 million worldwide.
After getting in a car accident, a woman is held in a shelter by a man who claims that the outside world is affected by a widespread chemical attack.