One of television's great mysteries has finally been solved.
For more than a decade Friends fans have pondered the identity of cult character Ugly Naked Guy. The clothes-shy fella who lived opposite Monica's apartment first appeared in season three episode The One With The Giant Poking Device and later returned – face obscured – in season 5's The One Where Everybody Finds Out.
No answers as to the identity of the actor were forthcoming on the IMDb or Wikipedia pages for Friends, so Huffington Post journalist Todd Van Luling took it upon himself to investigate.
After a year of dead ends, wrong turns calls to casting agencies, and incorrectly identifying Michael Hagerty as Ugly Naked Guy ("very, very wrong"), Van Luling eventually discovered who it was.
Step forward an extra named Jon Haugen.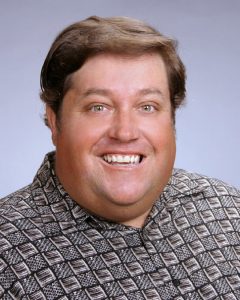 The Central casting agency for extras was eventually able to supply a name, and the man himself confirmed that he'd played Ugly Naked Guy in both Friends episodes.
"There's only one Ugly Naked Guy, man, and that was me," Haughen said. "The reason I never came forward was because I was just keeping it mellow because Warner Brothers was keeping it mellow. They wanted everybody to have a guess who I was."
Haugen revealed that he was called back specifically by Friends producers for a second appearance, in which he and David Schwimmer's Ross hang out in their birthday suits.
"I was in boxer shorts," Haugen explained. "At first I was feeling a little shy because I had about 500 people watching me in the audience besides the crew and everything.

"But after about two minutes went by, I was real comfortable and David Schwimmer was real comfortable. We were just in boxer shorts and they made it look like we were naked."
Now, Friends fans can sleep easy knowing that the man who was prodded with a massive poking device made from chopsticks is finally getting the credit he deserves.
Now, let's make sure Haughen gets involved for the next reunion.